Video snapshots
New feature: you can now take short videos and upload them as pictures.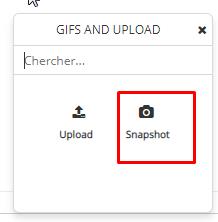 You need to enable in roles in your chatadmin the property called "canSnapshot".
Once enabled, you will be able to upload snapshots. Click on snapshot icon.
Of course you need to enable webcam to access that feature.
Once opened, snapshot modal window allows you to record a quick sequence of video,
30 seconds max.When sequence is recorded, you can replay it, close it or upload it to publish it.
Once uploaded, you can play it back.
.